Welcome to Adaptive Signage
Yes, we're sign nerds. We live and breathe signs. You might say we are Sign-tists.
Over the ages, the signage industry has evolved from the street carvings in Pompeii, which helped patrons find their local shops, to NFC "smart" signs that guide your phone to view a video, make a call, or follow a brand, along with a host of other useful and cool functions.
The mission and philosophy of our company is represented in our business name, Adaptive Signage. We are always looking to grow (and adapt) to the advancements and trends of our industry. Whether it is 3D UV printing technology, NFC-enabled "smart" signage or ADA-compliant braille signage, we simply love signs and the tremendous value they provide by making daily living easier.
Our staff is an eclectic group of creative, professional, and highly motivated individuals who are constantly exploring new and improved ways to enhance our abilities so we can pass that knowledge on to our clients through our product selection, quality, pricing, and originality. Creating signage that works for your business is more than an art, it is Sign-tific. (Get it?) Signs are everywhere, and standing out in the crowd of signs is a challenge we welcome. At Adaptive Signage, we feel that keeping things simple and functional is always the best option. Our ability to create custom signage in Westchester County, NY, allows our clients to add 3D logos to their signage for a truly personalized look that commands attention.
Custom Signs for Cohesive Branding
Other vendors of ADA-compliant signs sell cookie-cutter designs that aren't tailored to your brand and business. At Adaptive Signage, we can custom design and print signs for all purposes, from ADA-compliant directory signs to custom outdoor signs, healthcare signs, and more. If you need custom signs near me that are beautiful, on-brand, and compliant with ADA requirements, look no further. We've got what you need.
Let Adaptive Signage help you make the best first impression with exceptional ADA signage, wayfinding and directory signs, as well as cut lettering and lobby signs.
The better you look, the better we look. And you better believe that, when we're done with your signs, we're going to make you look very, very good.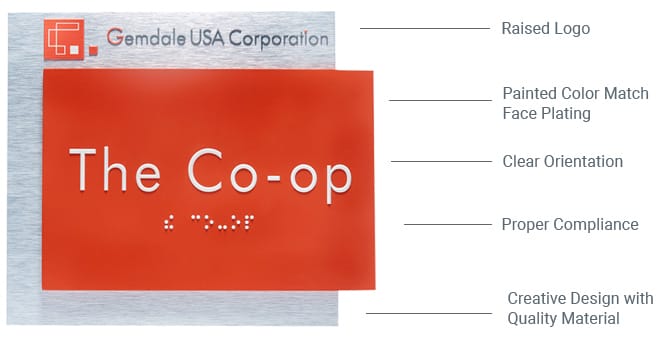 At Adaptive Signage, we have experience with all types of signs and understand what makes a quality sign. View more sign types below and some real life examples from existing customers.
Check out our new Preventive Signage
BROWSE OUR SIGN COLLECTIONS
Free Planning & Design with Sign Assist
We understand the challenges in ensuring you have met the proper requirements for your sign needs. That's why we offer a free design and planning service. Simply connect with one of our sign experts and we'll walk you through every step of the process. Click below for more details.